While here in Thailand we have been given the amazing opportunity to teach at a local Bible school for three day-long sessions. I've been teaching a class on missions for 2 hours in the morning with Brandon translating, and Keisha and I have been teaching English to two classes of Chinese students.
So far it's been a great experience. It's been a dream of mine to teach Great Commission principles to Christians in the non-western world, and spread a passion for cross-cultural missions around the world. The first week I taught on how the Great Commission is revealed in the Bible from Genesis thru to Revelation. The 24 Thai students learned about God's passion for all the unique peoples of the world, and His desire for them all to worship him in their distinct cultural ways. I'm excited to teach the next lesson this week about unreached people groups, especially those in Thailand and Burma, and how they can be reached for Christ.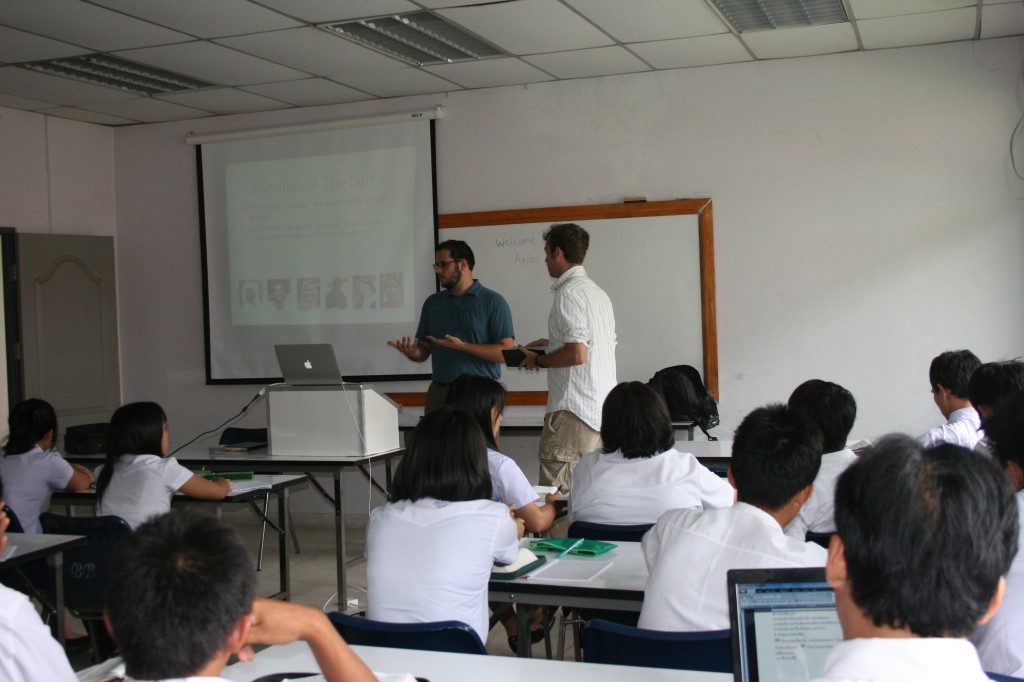 For the English classes, we divided the students into a beginners and advanced class. Keisha taught the beginners and had quite and exciting game going where she would call out vocabulary words or sentences and the student who could act it out soonest would win a piece of candy. For the advanced class we practiced putting together various sentences, and basic conversation. I drew my picture on the board with lots of words describing me and my life. The students had to form questions around those answers, and of course I would ask the question back. It was a whole lot of fun, and we're both looking forward to teaching again Wednesday. Most of the 50 Chinese students we taught are actually from China, and will be going back there when they graduate to spread the Word of God in that closed nation.
Please pray for the students, and that our final 2 teaching days will be blessed and have a lasting impact in their lives and ministry.